These 7  wreath projects are my favorites and include instructions on how to make them on their links.
 Full Of Summer Lush Wreath
 The Stone Gable  has me practically drooling with this wreath. I love Hydrangeas and the lime green color in spring especially. Putting a monogram on anything these days is popular, but on a wreath is awesome because it's the first thing people see when they arrive at your door. It says cheers and warmth are inside. And that's true at the stone gable blog. Yvonne's decorating is gorgeous!
      Red Summer Wreath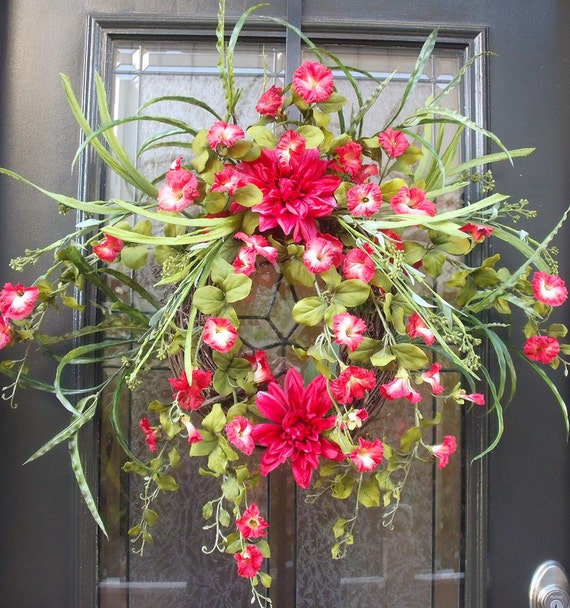 I love the airiness and color on this beautiful wreath. It's a statement of "natural", or fresh picked flowers from the meadow. If I dare to say, it's almost chaotic, but that is what intrigues me more than anything because it's a good kind of chaotic.
Semper-Viva Succulent Wreath
This succulent wreath looks lush and refreshing. John Gillespie and Christina Symons of The Everyday Eden garden craft book, shared this project on Garden Therapy.ca. With the sun shining on it's details and the mix of textures of varying sizes it will surely grab anyone's attention. The fact that it's alive is what sold me, plus my daughter is all about succulents and made her own succulent creation last summer. Succulents are just too cool!
Spring Tulip Wreath
Sugar Bee Crafts  made this beautiful wreath and displayed it on 5 different backgrounds. Personally I thought they all looked good but of course I'm partial to rustic ideas so I picked this one to show you today. That burlap bow is definitely something I want to try and I like how she weathered the monogram.
Limelight Hydrangea Wreaths
At Garden Matter , Patti explains how her limelight hydrangea put out plenty of blooms on new and old stems even though she pruned it heavily in the spring. What I like about this wreath idea is that you make it while the flowers are fresh cut and then they dry naturally on the wreath to a pretty brown color for fall. You can make what ever changes you want for fall or just leave it the way it is. I decorate with my hydrangeas around the house all year! The poor things get moved from one container to the next to help make a table or shelf more interesting.
Birthday Wreath
The birthday wreath had me taking a second look the first time I saw it. What kid wouldn't love it for their party, or even an adult? I never would have thought of a wreath with balloons. How does she do it?
Spring Lilac Wreath
 Made by funfamliving
I looked every where for pussy willow stems and all I found was this wreath that was pre made so instead of wasting anymore time running around I just bought it. The more I thought about it, I realized I actually made it alot easier on myself. Step one was already finished!
Anyway, I gathered the lilacs, white flowers, greenery, hot glue gun, wire cutters, and burlap ribbon. There is an extra, smaller grapevine wreath that I wired on top of the larger wreath.
I found the approximate length I wanted for each kind of flower by sticking a few in the wreath, without glue, just to get an idea of how long I wanted the stems to be. It helps me to get an idea of how it's going to work before I glue it together. Usually I need to play around with things a few different ways before I can be sure that what I want is going to work.
Then I took all the stems of flowers and greenery and cut them to the size I wanted them, before I started putting the wreath together. It helps things to stay uniform.
Then I arranged most of the project by sticking the stems in through the grapevines and once I was happy with everything I went around the wreath and glued each stem to a vine. The bow is another whole story that I'm not going to talk about, let's just say it's not one of my strong creative talents and leave it at that. Yvonne from Stone Gable blog, has a great tutorial for making a perfect bow. I guess some people need a little practice, but, I never said I was perfect. I'll probably replace it as I do many things because that's just what I like to do!